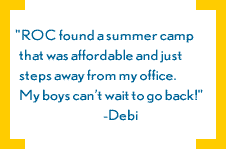 Founded in 1996, ROC is a pioneer in the growing employee benefits industry. Our goal is to offer employers a cost-effective, turnkey benefit that improves employee productivity and reduces company costs.

ROC clients recognize that today's employees are starved for time — and need to accomplish more than ever before in both their professional and personal lives.

Today, ROC offers the most comprehensive personal referrals to a wide range of corporations. Our services can be packaged either as a work/life benefit or as a tenant amenity.

ROC currently serves more than 120,000 employees in a variety of work settings including high technology, manufacturing, sales, consulting, biotech and office parks. Our clients are small- to mid-sized companies and property management firms with 150-4000 employees.

We take pride in offering the highest quality and most personalized service. To meet the needs of our clients, we offer on-site consultation for employees and flexible communication options via our customized web site, telephone and e-mail.